Brigade Buena Vista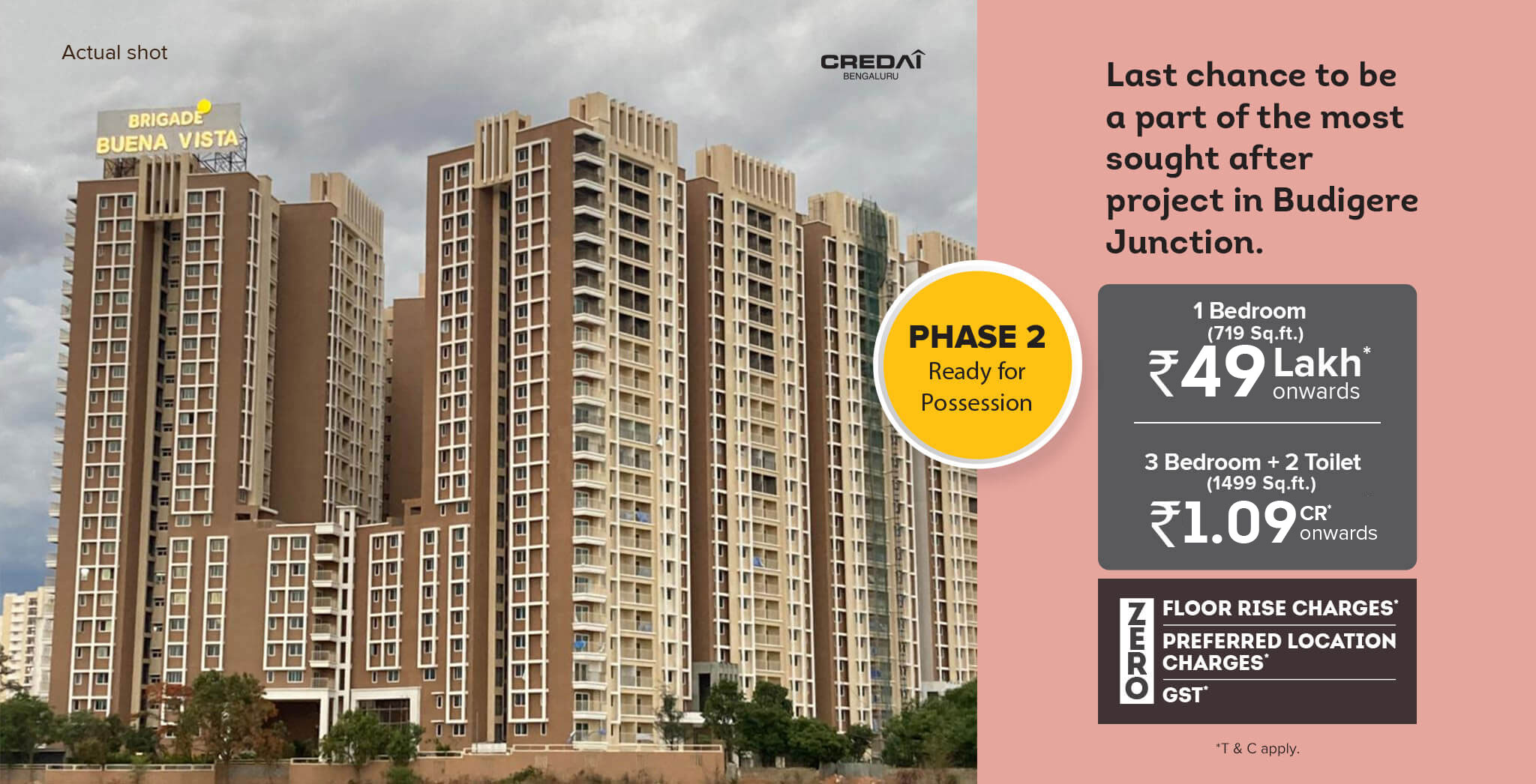 Rated
4.5
/5 based on
15
customer reviews
₹
4700000
2023-12-09T16:26:29+05:30
2022-09-22T11:38:51+05:30
In stock
Product description:
Brigade Buena Vista is a ready-to-move project with a total of 760 homes of 1,2,3 & 4BHK configurations located in Old Madras Road, Bangalore. Prices start from 47 Lakh onwards. Visit the website for price-sheet, master plan, floor plans and more.
Anonymous
- by
,2023-11-28T02:39:46+05:30
High Quality of construction
1
Price slightly on higher end when compared to local builder
1
High Quality of construction
₹
₹47,00,000
to
₹1,07,00,000
Brigade Buena Vista - Floor Plan
A floor plan is a diagram that shows the layout of a building or a part of a building, typically viewed from above. It gives a bird's-eye view of the space, showing the location of walls, doors, windows, and other architectural features. A floor plan may also include the placement of furniture, fixtures, and appliances to help visualize how the space can be utilized.
In the context of a residential project like Brigade Buena Vista, a floor plan typically shows the layout of individual apartments, including the location and size of rooms, bathrooms, balconies, and other features. It helps potential buyers to visualize the layout of the apartment and how they can arrange their furniture and other belongings within the space. The floor plan also helps buyers to compare different apartment types and choose the one that best suits their needs.
Floor plans are an essential tool for architects, engineers, interior designers, and builders. They provide a detailed representation of the building or space, which can be used for planning, design, and construction purposes. Floor plans can be created using computer-aided design (CAD) software or by hand-drawing, depending on the complexity of the project and the preferences of the designer or architect.