Brigade Komarla Heights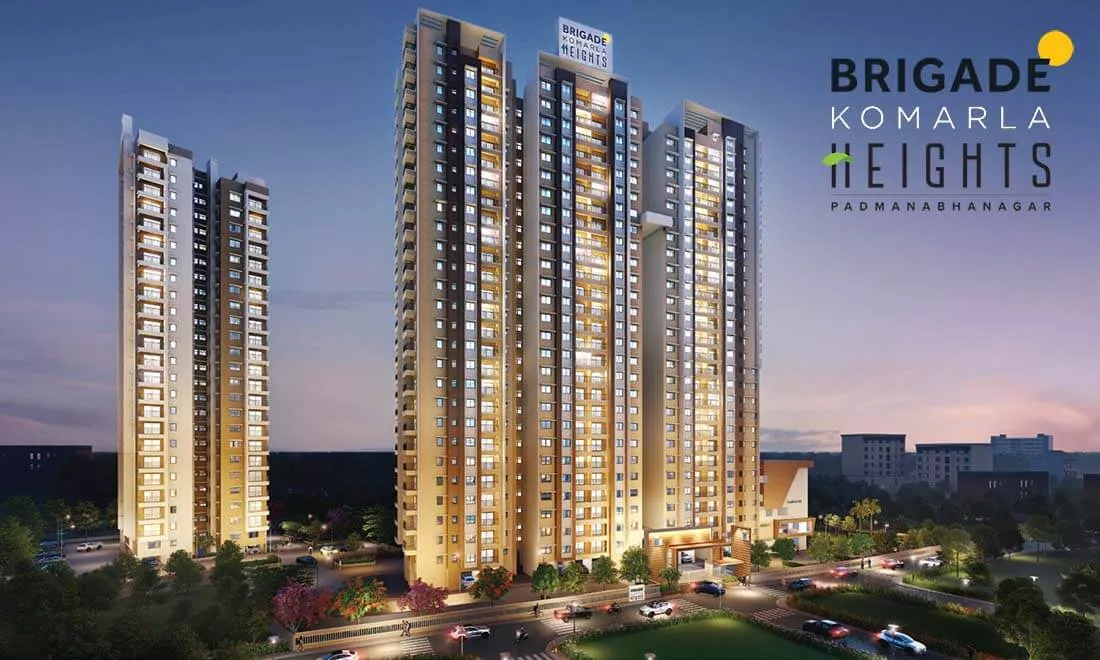 Rated
4.5
/5 based on
15
customer reviews
₹
9500000
2026-12-31T00:00:00+05:30
2022-11-11T18:39:56+05:30
In stock
Product description:
Buy property in Brigade Komarla Heights, Bangalore. Get top amenities like swimming pool, gym, 24 Hrs Water, Garden, Library, Party Hall.
Anonymous
- by
,2023-09-22T12:06:47+05:30
High Quality of construction
1
Price slightly on higher end when compared to local builder
1
High Quality of construction
₹
₹95,00,000
to
₹1,31,00,000
Brigade Komarla Heights - About
Brigade Komarla Heights: A Dream Home in the Heart of Bangalore
Bangalore, also known as the Silicon Valley of India, has been growing exponentially over the years, attracting individuals and businesses from across the globe. The city's rapid development has led to a surge in the real estate industry, with developers competing to provide the best homes to meet the needs of their clients. Among the top players in this sector is Brigade Group, which has established itself as a reputable developer of luxurious homes and commercial spaces.
One of the latest projects from Brigade Group is Brigade Komarla Heights, located in the heart of Bangalore's IT hub, Whitefield. Spread across a sprawling 3 acres, this residential complex consists of 13 floors, with 3 and 4 BHK apartments ranging from 1700 to 2900 square feet.
The project's prime location ensures that its residents are well-connected to the rest of the city. Whitefield has a vibrant social and cultural scene, with many restaurants, cafes, shopping malls, and entertainment centers nearby. The area is also home to several prestigious educational institutions, such as Ryan International School and Vibgyor High School.
Brigade Komarla Heights boasts of several state-of-the-art amenities, including a well-equipped gym, swimming pool, children's play area, and clubhouse. The apartments are designed to provide maximum comfort and luxury, with spacious balconies overlooking the city skyline. The interiors are well-appointed, with the latest fixtures and fittings, ensuring that residents have a comfortable living experience.
The project's green initiatives are worth mentioning, as Brigade Group has always been committed to sustainability. The complex has a rainwater harvesting system, solar water heating, and waste management facilities, making it an eco-friendly living space.
One of the unique features of Brigade Komarla Heights is its Sky Club, located on the 13th floor. This exclusive club provides residents with breathtaking views of the city, along with a host of recreational activities such as a mini theatre, indoor games room, and a sky garden.
In conclusion, Brigade Komarla Heights is an ideal residential option for those looking for a luxurious and comfortable living space in the heart of Bangalore. The project's location, amenities, and eco-friendly initiatives make it a top choice for families and individuals seeking a premium lifestyle. With its excellent connectivity, proximity to key institutions and facilities, and superior quality of construction, Brigade Komarla Heights is a dream home that ticks all the right boxes. The project is also well-connected to other parts of the city, with easy access to the Outer Ring Road and the upcoming metro line. This makes it an attractive option for professionals working in the IT industry, who can avoid the hassle of commuting long distances to work.
Brigade Group is known for its commitment to quality, and this project is no exception. The construction is of the highest standards, ensuring that residents have a safe and secure living environment. The apartments are designed to maximize natural light and ventilation, providing a comfortable living space that promotes wellness and health.
Apart from the amenities and location, Brigade Komarla Heights also offers residents a sense of community. The project has been designed to promote social interaction and a sense of belonging, with landscaped gardens and a community hall for events and gatherings. This makes it an excellent option for those seeking a holistic living experience that goes beyond just a physical home.
The project has already garnered a lot of interest from potential buyers, with many units already sold out. The high demand is a testament to Brigade Group's reputation as a reliable and trustworthy developer, known for delivering on its promises.
In conclusion, Brigade Komarla Heights is a one-of-a-kind residential project that offers a premium living experience in the heart of Bangalore. With its prime location, state-of-the-art amenities, eco-friendly initiatives, and superior quality of construction, this project is the epitome of luxury and comfort. For those seeking a dream home that combines style, functionality, and community, Brigade Komarla Heights is the perfect choice.